Before the beauty of spring sets in, the melting snow leaves behind some unpleasant sights. That includes dead grass, garbage, and unfortunately pet waste left behind by owners.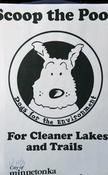 It's a concern for one west metro community, and the city of Minnetonka is now taking action.
Vanessa Weseman loves the new task of taking her dog, Happy, out for walks.
With her plastic bag attached to his leash, even this first-time dog owner knows she needs to pick up after him.
"I respect our mother, the planet, and I try to take care of it even when I am at dog parks. I will pick up other bags as I go and just toss them in the garbage," Weseman said.
Last year, a Minnetonka resident did some research on pet waste. Over the course of 12 days, he visited four city parks and picked up poop.
"He actually picked up about 200 pounds of dog poop during that period of time," Minnetonka Natural Resources Manager Jo Colleran said.
He brought his concerns to the park board, and the city is taking action.
A billboard is up around town urging residents to pick up after their pets, and Minnetonka is now working with other cities across the country that have posters up educating pet owners on where all that waste goes.
"Pet waste has bacteria and nutrients, and it is really harmful to our surface waters. If it is not picked up, it just adds to that pollution," Colleran said.
She says pet poop isn't like that of animals you'd normally see in the woods, which will decompose, and the numbers of wild animals certainly aren't the same.
"In some parks, we may have 100 dogs a week, versus the deer herd that might be living in that general location," she said.
A twice-a-day dog walker, Ann May says she's happy the city is standing up for clean water.
"If there are people who aren't taking it seriously, they need to be told they should," May said.
As of right now, the campaign is only funded by staff time.
There is a pet waste pick-up party from 10 a.m. to noon Saturday March 14, at Purgatory Park. The city is asking volunteers to come out and collect poop for a couple of hours, and they will then weigh it.
This educational campaign will continue with education in the schools and possibly a poster contest in the schools next year
via New Campaign about Pet Poop and Water Quality | WDAZ.
(Visited 46 times, 1 visits today)