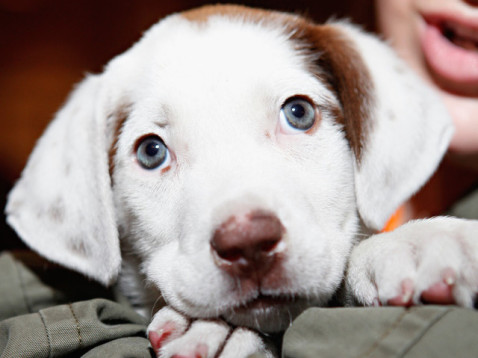 Harley was the bulldog's name. He was pronounced dead at baggage claim at Seattle-Tacoma International Airport last year despite a passenger's attempt at cardiopulmonary resuscitation.
Two months later, a mixed-breed Rottweiler arrived lifeless at Sea-Tac in his chewed-out kennel, dead of what later was diagnosed as aspiration pneumonia. And at Logan International Airport in Boston, a male cat named Daunte twice escaped from his kennel before he could be loaded into the cargo hold; he was found the next day after a ramp vehicle had struck him dead.
The three were among at least 62 animals that died, were injured or lost since 2010 while being flown aboard Alaska Airlines, a tally that makes the Seattle-based company one of the nation's leading carriers in recent years for reported pet casualties.
Only Delta, the nation's busiest airline, with six times Alaska's passenger traffic, reported more incidents, 74, to the U.S. Department of Transportation during the same period. But for 2013 and for the first seven months of this year, Alaska topped the casualty rankings.
The reasons for Alaska's number of victims are unclear. The company suspects it may handle more than its share of animals. Alaska is practically the house airline in its namesake state, where residents have few alternatives for shipping their pets long distances.
Alaska, the nation's ninth-largest carrier by passenger traffic, has one of the industry's most pet-friendly policies. It offers "Fur-st Class Care" for most small domesticated pets, including potbellied pigs, birds, hamsters, turtles and nonvenomous snakes, either in the passenger cabin or in the plane's climate-controlled cargo hold. Several domestic carriers, including JetBlue Airways, Southwest Airlines and US Airways, do not accept even dogs or cats as cargo.
Alaska also is one of few airlines to accept snub-nosed dogs, breeds that are more susceptible to heatstroke and respiratory issues.
via Airlines offer partial picture of animal safety – 23ABC News.
(Visited 46 times, 1 visits today)