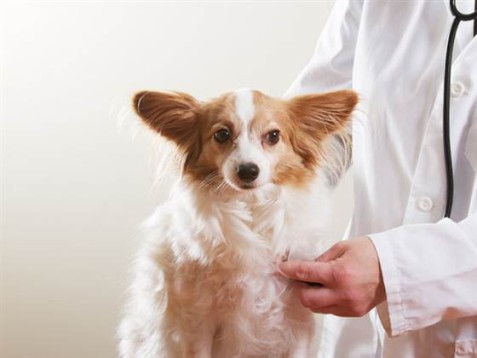 Nearly every pet has a minor freak-out during its annual checkup, so chances are that you're more focused on keeping your pup or cat calm than having a heart-to-heart with your vet about its health. That's why we asked vets around the country to share one piece of stay-healthy advice every pet owner should know. From dental care to diet, here's what they had to say.
Jon Schulte/Photographer's Choice RF/Getty Images
Annual exams are a must.
Bringing your pet to the vet once a year is a simple, effective way to maintain its good health.
"Preventive exams actually save money and allow your pet to live longer," explains Dr. Ted Cohn, president of the American Veterinary Medical Association and companion animal practitioner for 35 years. Treating a problem early increases the chance for success, minimizes discomfort for the pet and costs less in the long run.
Pets older than 6 months need yearly exams, Cohn suggests, while puppies under 6 months and senior pets should have wellness exams twice a year.
Seek out a specialist.
Animals can develop tough-to-treat medical issues that are best handled by a specially trained vet.
"If your pet has a condition that isn't improving, or requires testing or procedures beyond the scope of your veterinarian, consult a specialist," says Dr. Mary Ann Crawford, internal medicine specialist at Oradell Animal Hospital in Paramus, New Jersey.
With an additional three to five years of training, specialists have a greater knowledge of the unusual, uncommon or downright rare. Your veterinarian will work closely with them and resume care once your pet once is stable or has recovered.
Don't try to diagnose your pet.
"When in doubt, don't consult with Dr. Google," says Dr. Bernadine Cruz, a companion animal veterinarian in Laguna Hills, Calif. "You get what you pay for. When your pet has a problem, you need professional eyes, ears, fingers and sometimes diagnostic tests to assess it."
Microchip your pet.
"Microchips can save your pet's life," says Dr. Larry Dee, a Hollywood, Florida, a small animal veterinarian and American Veterinary Medical Association executive board member. And he's not kidding.
Consider this: If your pet breaks out of the backyard, it could end up in a shelter and possibly euthanized (or adopted by another family). A microchip will speak up when your little buddy can't, offering your contact information when scanned. It's a painless procedure — the tiny chip is just implanted between your pet's shoulder blades — and relatively inexpensive. Veterinarians and animal shelters will most often implant chips for less than $50.
via What veterinarian wishes you knew – Pets – TODAY.com.
(Visited 33 times, 1 visits today)