Stray dogs pay respects to Mexican animal lover 830 miles from home (VIDEO)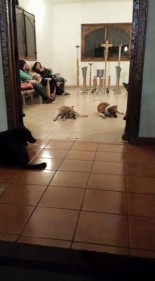 The 71-year-old regularly fed abandoned animals throughout her life.
A pack of stray dogs showed up to pay their respects to a Mexican woman who'd spent her whole life looking after neglected animals.
Mourners were left stunned when the animals walked into the Cuernavaca funeral home where Margarita Suarez's body was being kept, reports Misiones Online.
They then stood guard over her corpse.
The 71-year-old regularly fed abandoned cats and dogs on her block in Merida Yucatan.
But the bizarre canine tribute was made even weirder when it emerged that Suarez was actually being cremated 830 miles away from her home town.
It appears that the roaming dogs sensed that she'd been good to their kind and wanted to say thanks on their behalf.
Workers say the dogs did not normally hang around the funeral home.
Suarez's daughter Patricia Urrutia said the abandoned pups stayed with her mother all day and night before eventually disappearing.
"But one hour before we brought my mom to be cremated the dogs came back and grouped around as if to say goodbye," she told ABC News.
"I swear by God that it was beautiful, marvelous," she added.
Funeral home workers said the dogs did not usually hang around the business. Urrutia posted pictures of the astonishing scene to Facebook on March 15. They've since gone viral.
She revealed that the presence of the dogs had helped her through the difficult day.
"When I was in a moment of so much pain these dogs that came, they showed me that everything was going to be okay," she told ABC.
via Stray dogs pay respects to Mexican animal lover – NY Daily News.
(Visited 60 times, 1 visits today)