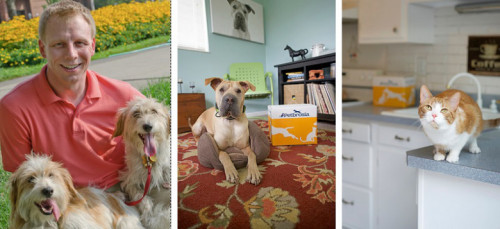 Pet parenting is hard work, and it's a $58 billion market in the U.S. Petbrosia is hoping to make life easier for pet parents and make life longer for pets by coming up with custom food that is suited to meet your pet's specific nutritional needs.
"Studies have shown that better diet can help pets live two years longer," said Keith Johnson, chief executive of Petbrosia in Cincinnati, Ohio, in an interview with VentureBeat. "Petbrosia designs the actual makeup of the food. You don't give the same food to a toddler or a 200-pound adult. You change the mix of proteins and carbohydrates. That's what Petbrosia does."
The company asks visitors to fill out a survey form on its web site, listing things like the breed, allergies, sex, age, height, and weight of the animal. Then it automatically recommends a formula, mixes it in the warehouse, and has it boxed to go in about 20 minutes. It usually ships it out the same day. Johnson said the algorithm for recommendations is based on a lot of research, and it is the company's secret sauce.
In 2014, the company grew its revenues about five-fold. Back in December, Petbrosia said it raised $1.5 million in the form of a $1.5 million commercial acceleration loan from the state of Ohio. It will use the money to expand its pet food e-commerce business.
via Petbrosia crafts an e-commerce site that customizes food for your pet | VentureBeat | Lifestyle | by Dean Takahashi.
(Visited 45 times, 1 visits today)