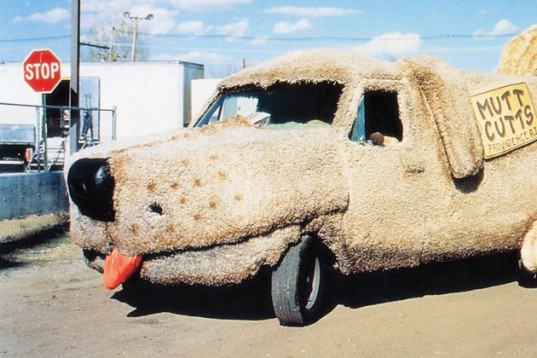 Dumb and Dumber, 1994
In the 1994 comedy Dumb and Dumber, Jeff Daniels's character Harry Dunne spends his life savings converting a utility van into a mobile dog-grooming business—called Mutt Cutts and made up to look like a sheepdog—then ditches the business to go goofballing across the country with Jim Carrey. That is to say, Dunne is a classic case of an entrepreneur who gives up on a good idea too soon.
In the two decades between the first movie and the sequel, Dumb and Dumber To, which opens Friday, what Americans spend on pets exploded to $56 billion last year, from $17 billion in 1994, according to the American Pet Products Association. Meanwhile, the number of pet-care businesses—groomers, trainers, kennels, and doggy day-care centers—more than doubled to 14,000 from 1998 to 2012.
That includes thousands of entrepreneurs like Shaffia Galis-Menendez, who runs a West Orange (N.J.) grooming business in a tricked-out 2014 Dodge Promaster, equipped with stainless steel bathtub, adjustable grooming tables, and storage for all manner of shears, detanglers, shampoos, and canine colognes. With her poodle Hamlet riding shotgun, Galis-Menendez usually makes five stops a day. She has about 200 clients. Appointments have to be booked three months in advance. "There's a little saying in this industry," she says. "It's not about finding dogs to groom, it's about finding groomers to groom them."
via Dumb and Dumber Predicted the Dog Grooming Van Boom – Businessweek.
(Visited 145 times, 1 visits today)