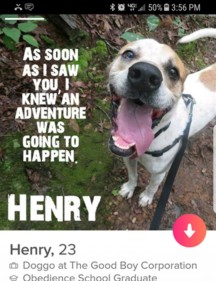 It's hard to find love. That's true whether you're a human, or a shelter dog. So like other lonely hearts of this era, Henry the hound is on Tinder.
And he's got some good opening lines (deployed, of course, via a human assistant):
"Hello hooooouuuuuman! My name is Henry, but you can call me 'good boy.'"
"Netflix and Nuzzles?"
Miranda Morrison is the person who put Henry on the dating app — listing his age as 23, which is more or less accurate in dog years.
In addition to playing doggie matchmaker, Morrison is the canine behavior and enrichment coordinator for Animal Ark Rescue in Columbus, Georgia. Henry has been at Animal Ark's no-kill shelter for nearly three years now, which has given Morrison a lot of time to grow extremely fond of him.
"He is my favorite dog at the shelter," Morrison told TODAY.
(Visited 80 times, 1 visits today)