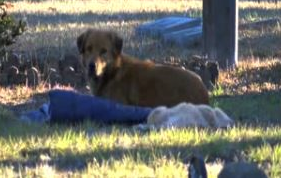 SAVANNAH, GA (WTOC) –
The grieving golden retriever who stole many hearts Wednesday is alive and well. The mother is back out at the cemetery, now near the spot where she buried her pup.
Even with the frigid temperatures, the golden moved through the Laurel Grove Cemetery North staying close to the spot where she buried her puppy.
She was first brought to WTOC's attention by 15-year-old Hunter Cone who saw her lying by her dead puppy's side. Since the area was expecting below freezing temperatures, Hunter wanted to rescue her. But six hours later, and after several failed attempts, it became clear the golden was not willing to leave puppy or the cemetery.
"It was very relieving to me," Hunter said. "That worry was gone. Just this overwhelming feeling of happiness, in a way."
It appears that she has been living at the cemetery for quite some time. One city employee said she has been seeing the dog for a while now, and saw her first thing Thursday morning.
"You know she sees us come through. She sees through the trucks…she's kind of used to us," Debbie Robinson said. "We don't really bother her or mess with her, and she doesn't bother us. We let her be what she is."
In fact, one woman told WTOC on her way out of the cemetery, she has been seeing and feeding the dog here since Labor Day.
There is still hope of rescuing the golden, but it has proved challenging.
"Although we are a rescue agency, we are only permitted to rescue directly from animal control, or owners surrendering their legally owned pets," Lisa Scarbrough with Coastal Pet Rescue said.
According to the Georgia Department of Agriculture, only animal control agencies are allowed to take in a stray, and are required to put it in holding for five days. So, Coastal Pet Rescue legally could not take her in, even if they did catch her.
"Helpless. I've been in rescue for 14 years, and the reason I got into rescue was to make a difference, but now all I can do is sit back and watch and wait," Scarbrough said.
Animal Control said the reason for this is public safety. But, the agency said it has been out since Sunday trying to rescue the dog and once they do, and after the holding period is over, the golden will be released to Coastal Pet Rescue.
via After dog buries puppy, mother's love extends beyond the grave – FOX Carolina 21.
(Visited 183 times, 1 visits today)