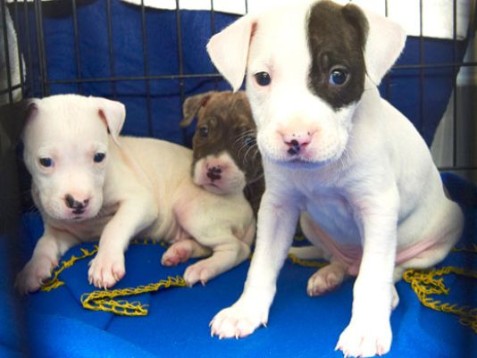 September is National Preparedness Month, and the ASPCAhas information that can help you prepare for a natural disaster or emergency before it strikes.
Here are some things you can do this month to help your pets weather a storm – or an earthquake.
Download the ASPCA Mobile App. The new app allows users to store critical pet records required to board pets at evacuation shelters, provides customized steps to search for lost pets, and includes a check-list of actions to take before, during and after a storm.
Microchip your pet. Microchipping could be your pet's best ticket home if he becomes lost. The chip contains owner contact information and can be read by scanner at most animal shelters. Ask your veterinarian about microchipping your pet asap.
Arrange a safe haven for your pets in the event of evacuation. DO NOT LEAVE YOUR PETS BEHIND. If it isn't safe for you, it isn't safe for your pets. They may become trapped or escape and be exposed to numerous life-threatening hazards. Note that not all Red Cross disaster shelters accept pets, so it is imperative that you have determined where you will bring your pets ahead of time:
– Contact your veterinarian for a list of preferred boarding kennels and facilities.
– Ask your local animal shelter if they provide emergency shelter or foster care for pets.
– Identify hotels or motels outside of your immediate area that accept pets.
– Ask friends and relatives outside your immediate area if they would be willing to take in your pet.
Prepare emergency supplies and traveling kits. Keep an Evac-Pack and supplies handy for your pets. Make sure that everyone in the family knows where it is. This kit should be clearly labeled and easy to carry. Items to consider keeping in or near your pack include:
– Pet first-aid kit and guide book (ask your vet what to include, or visit the ASPCA Store to buy one online)
– 3-7 days' worth of canned (pop-top) or dry food (be sure to rotate every two months)
– Disposable litter trays (aluminum roasting pans are perfect)
– Litter or paper toweling
– Liquid dish soap and disinfectant
– Disposable garbage bags for clean-up
– Pet feeding dishes
– Extra collar or harness as well as an extra leash
– Photocopies of medical records and a waterproof container with a two-week supply of any medicine your pet requires (Remember, food and medications need to be rotated out of your emergency kit—otherwise they may go bad or become useless.)
– Bottled water, at least 7 days' worth for each person and pet (store in a cool, dry place and replace every two months)
– A traveling bag, crate or sturdy carrier, ideally one for each pet
– Flashlight
– Blanket (for scooping up a fearful pet)
– Recent photos of your pets (in case you are separated and need to make "Lost" posters)
– Especially for cats: Pillowcase or EvackSack, toys, scoopable litter
– Especially for dogs: Extra leash, toys and chew toys, a week's worth of cage liner.
via Checklist for preparing your pet for an emergency.
(Visited 16 times, 1 visits today)