Family pets would get the same consideration as children affected by divorce and domestic violence, according to a proposed law in Alaska.
Pets would be protected in cases of divorce and domestic violence under a law being considered by Alaskan legislators.
The measure is aimed at spouses who use family pets as emotional punching bags or ways to manipulate their partner.
"More and more animals are used by an abuser for punishment, manipulation or revenge against a victim," said Rep. Liz Vazquez, a Republican from Anchorage.
"They will threaten to kill, maim or torture a pet to gain control over the family," she said.
Introduced earlier this week, the bill would change existing laws to include temporary care or protection of domestic animals.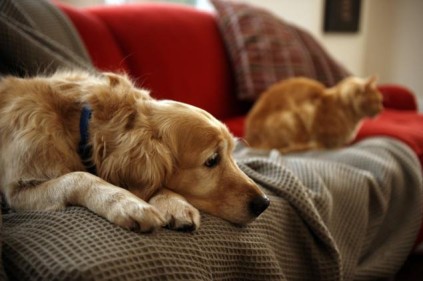 Family pets would be protected in divorce or domestic violence cases under a measure being discussed by legislators in Alaska.
"Victims and children would hesitate to leave an abusive relationship or abusive environment for fear of leaving behind their pets. We can stop that," Vazquez said.
What's best for the animal would be considered during divorce cases, and owners who neglect or abuse their pets would have to pay room and board for their pet to be held in a shelter.
With News Wire Services
via Alaska bill aims to protect pets in divorce, violence cases – NY Daily News.
(Visited 71 times, 1 visits today)