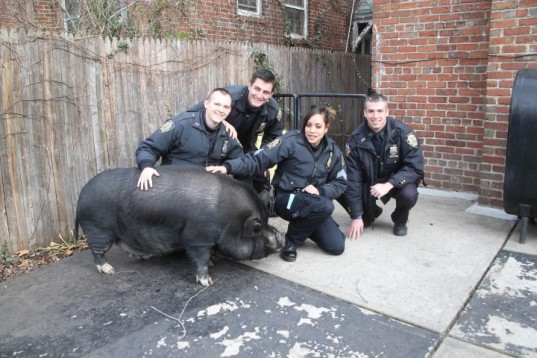 Wherefore art thou, Romeo?
A 400-pound pig named after Juliet's boyfriend decided to go for a Sunday stroll in Queens — startling a passerby who couldn't believe her eyes and called police.
Happily, it didn't end in a Shakespearean tragedy.
Cops from the 113th Precinct, who have known Romeo for years, just watched him waddle up to his owner's front door in St. Albans and "knock."
"He was just out walking around, stretching his legs," said owner Lisa Cummings, 47.
"When he wants to come in, he knocks on the door, and I just open the door for him."
Cummings' cop husband adopted the pig from a Long Island breeder about eight years ago as a gift for her. Cummings grew up on a farm on Trinidad and likes having Romeo around to remind her of her childhood.
The porker snoozes in the basement on a bed of old shirts, blankets and sheets. Romeo, who is housebroken, goes out to the back yard to relieve himself.
"He doesn't go in the street. He's not allowed to go in the street," said Cummings. "He knows that." But it must have slipped his mind.
via 400-pound pig at home with the cops | New York Post.
(Visited 258 times, 1 visits today)