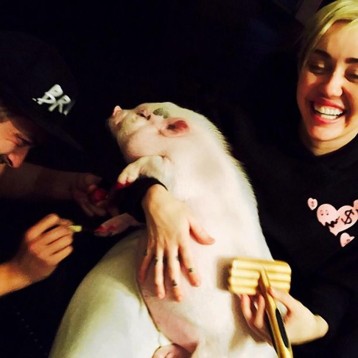 Miley Cyrus had animal lovers squealing "abuse" after she shared photos of her pet pig getting a pedicure.
The singer posted photos on Instagram Wednesday showing off her pet pig Bubba Sue's beauty treatment.
"Pig pig gonna be lookin' fresh," she captioned a photo of her piggy getting her nails painted bright red.
In another photo, Cyrus can be seen laughing while holding and brushing Bubba Sue as the pig continues getting her pedicure done.
Not everyone was smiling at the images. Animal lovers called the "Wrecking Ball" singer a "pig" for putting her pet through the beauty ordeal.
MILEY CYRUS VIA INSTAGRAM
Miley Cyrus posted this picture of herself brushing her pig while it has its nails varnished.
"Poor pig," another wrote. "It will feel much better if you just eat it."
Their concern stemmed from Bubba Sue being exposed to harmful chemicals in the nail polish.
"You know you can buy animal nail polish, right," a fan wrote in defense of Cyrus. "Chill."
The "FU" singer first shared photos of her piglet in August shortly after adopting her.
via Miley Cyrus causes uproar with photos of pet pig's pedicure – NY Daily News.
(Visited 257 times, 1 visits today)