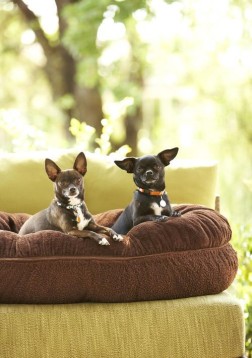 Let's face it, hotels really have gone to the dogs. (Photo: Plush Studios/Vetta/Getty Images)
There's no doubt about it — today's pets are spoiled. Sometimes we spoil our furry babies more than we spoil our children.
Traveling is no exception.
From doggie massages to organic treats to a pet psychic, these are some of the most over-the-top pet amenities in the world.
1. Canine Massage
Sometimes your pooch gets a little tense and needs a nice rubdown. (Photo: Belmond Management Services SARL)
The Belmond Hotel Splendido and Splendido Mare in Portofino, Italy, gives a whole new meaning to "couples massage." While you are enjoying five-star treatments, your pooch is, too. The property's canine massage promises to release any tension and promote holistic wellness. The services don't stop there; a full-service salon and a private dog taxi are also available.
2. Gourmet Treats
When only the best will do (Photo: Trump Hotel Collection)
Trump Hotels around the world always ensure that their two-legged guests eat well, but their guests' loyal furry companions do, too. The Trump Pets program provides in-room dining with irresistible gourmet treats that might even get you drooling. In addition, bottled water and plush toys can be put in your room to make sure your pet is just as happy as you are on vacation.
3. Pet Tapas
From the Rancho Valencia pet menu: Shepherd's pie, made with ground beef, potatoes, and peas (Photo: Rancho Valencia/Facebook)
At the Rancho Valencia Resort and Spa in San Diego, California, pets are considered part of the family and are given the same outstanding service as human guests. Rancho has a special in-room Doggie Tapas menu featuring canine favorites. Also offered are places to play, pet-friendly shopping, grooming, and pet sitting. Upon check-in, pet guests receive a sampling of tasty doggie treats, "clean up after your doggie" bags, and a plush doggie bed.
4. Doggie Beer
via Massages and Psychics? 10 Crazy Amenities Just for Pets.
(Visited 43 times, 1 visits today)